Many blog posts will give you an overview of the education system in Singapore. They'll walk you through the different levels of the Singapore education system. Read them, and you will have a basic understanding of how the Singaporean education system works. 
Heck, you could even go around explaining a thing or two about the education system in Singapore to your friends. 
But if you dream bigger and want a comprehensive overview, an all-inclusive post that'll cut through the noise, then you're in the right place. 
Because you need a full understanding of Singapore's education so that you can make the right choices for your children's education. After all, that's every parent's wish – to secure the best education for their children. 
In this post, I'm going to give you a comprehensive overview of the Singapore education system. I'll save you the time you'd have spent going through MOE reports and lurking on cut-and-dried posts. 
Let's get started.
Overview of the Education System in Singapore
1. Pre-School
Pre-school is a learning space or educational establishment for children between the ages of three to six. They are run by companies, charities, and community groups, and fees are payable.
Exclusive offer for first-time customers only!
Get 15% discount off your first lesson and no agency fees! Choose from a selection of reliable home tutors and keep learning even while at home. Claim this promotion today.
Besides, the Ministry of Education in Singapore is trying to improve the quality of kindergarten education by: 
Coming up with curriculum resources that will help early childhood educators in delivering quality content for the young ones. 

Providing affordable and quality education through the Ministry of Education Kindergartens.

Sharing good practices and other curriculum resources with the pre-school sector.
Pre-schools in Singapore consists of one year of nursery learning and two years of kindergarten education. During this period, children learn the basics of language and writing skills. 
Additionally, children gain an understanding of two languages at this stage – English being one of them and either Malay, Chinese or Tamil.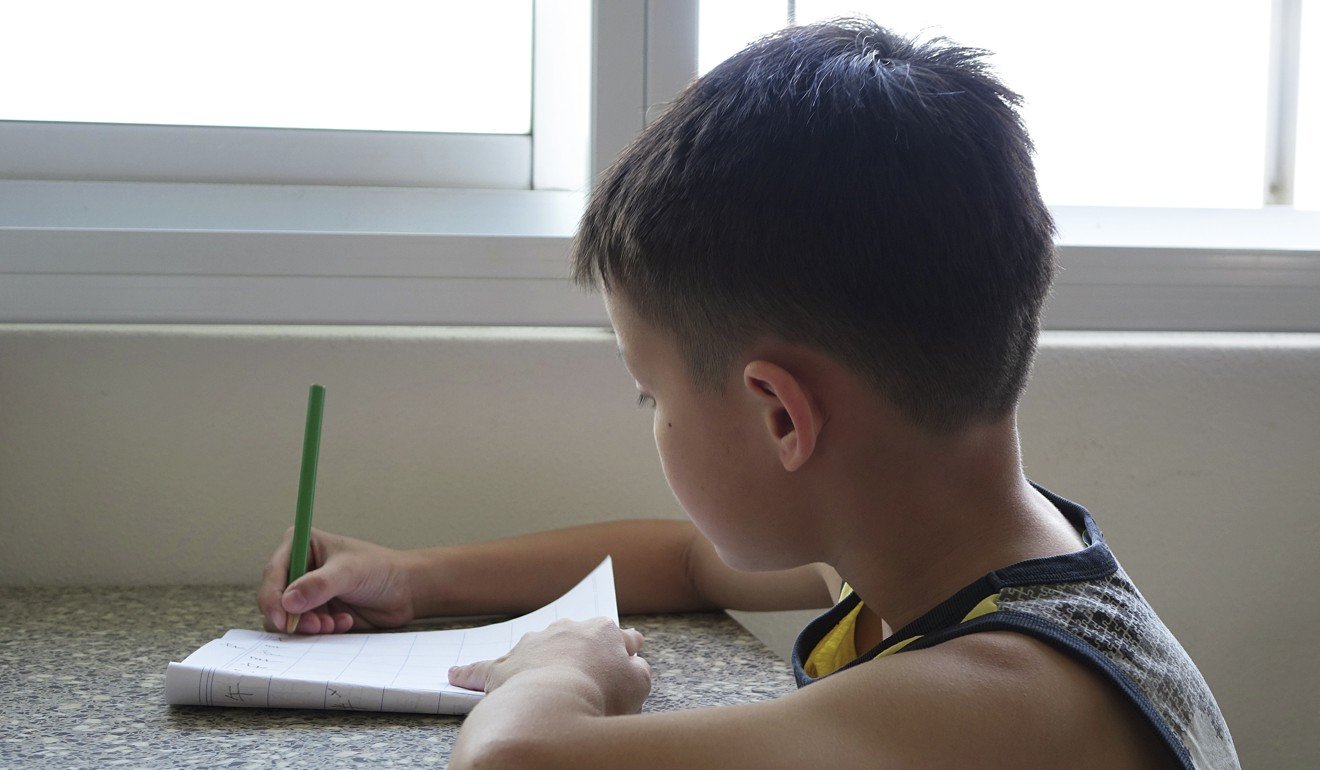 There are procedures for registering your child in a kindergarten school. Be sure to apply for your child's admission early enough. The admittance is usually carried out in March and April every year. 
The rates for pre-school education could vary from one school to another, and the best schools charge exorbitant rates. For example, MOE kindergartens could cost around 320 SGD if you permanently live in Singapore. 
If your primary objective is to get your child the best pre-school education, check if Singapore Pre-school Accreditation Framework (SPARK) accredits the school you choose. 
Lastly, find out from your doctor if there are any vaccines your child will need to get accepted for enrollment. 
Pre-School Education Learning Areas
Between the age of three to six, children need a carefully-planned curriculum to help in their holistic development. Below are the learning areas at the pre-school level of education. 
Numeracy

Language and literacy

Aesthetics and creative expression

Social and emotional development

Discovery of the world

Motor skills development
Once your child has gone through these learning areas, he or she should be able to meet some goals – learning goals.
Specific Learning Goals in Specific Learning Areas
Upon completion of kindergarten two, your child should understand specific things. Some students will exceed these expectations while some will continue working towards some of these goals. 
Numeracy
Learn and use simple patterns and relationships, for example, arranging things in order in terms of length or size.

Apply the use of numbers in their daily experiences, for example, recognizing numbers 1-10 in numerals as well as in words.

Learn and use basic shapes such as triangle, rectangle, etc.
Language and Literacy
Language and literacy are divided into two categories – the English language and the mother tongue languages. 
Can't stay abreast of education news in Singapore?
We'll send them straight to your inbox to help you always stay up to date!
You have successfully joined our subscriber list.
English Language 
Listen to information and enjoyment, for example, listening to stories.

Speak to communicate with others; for example, children should be able to express their needs and wants.

Read with understanding; for example, children should recognize upper and lower case letters. 

Children should be able to write their names.
Mother Tongue Languages
Children should have the desire to learn their mother tongue language.

Develop literacy skills and development language.

Children should be able to recognize their ethnic culture.
Aesthetics and Creative Expression
Enjoy art and music

Express ideas using art and music

Shares ideas relating to art and music
Social and Emotional Development
Children should develop an awareness of their identity

Children should be accountable for their actions

Children should be able to show respect for diversity

Children will be able to control their emotions as well as their behaviors
Discovery of the World
Children should show an interest in the world they live in

Children should have a positive attitude towards the world

Understand how things work in the world
Motor Skills and Development
Show control, coordination, and balance

Show restraint and coordination in motor tasks

Enjoy by participating in different activities

Develop healthy habits
General Learning Goals at Pre-School Level
After your child has gone through pre-school education, he or she should: 
Know what's right and wrong

Relate well with others

Be curious and eager to explore

Accept themselves

Love their families, friends, and teachers at school

Be able to listen and understand
2. Primary School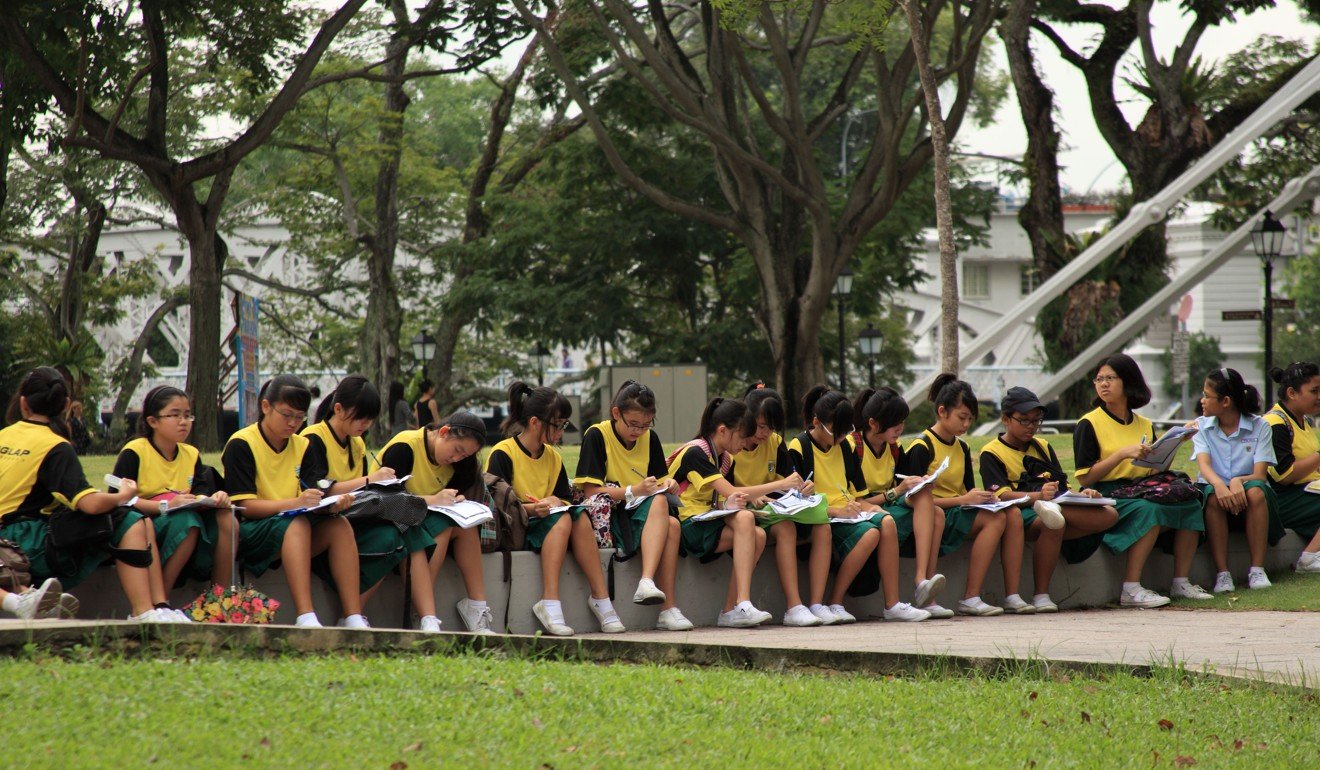 Primary school education in Singapore is compulsory and offered free of charge by the ministry of education, and parents who don't comply could face penalties. 
If you want to homeschool or admit your child in a religious institution that's not managed by the MOE, please apply from the authority so that you can be allowed to do so. 
Primary school consists of six grades – four years foundation period and two years for preparation to join secondary education. During the four years of foundation, children learn English, their mother tongue, and Maths. 
In the final stage of primary education (two years orientation), children will join together depending on their subject strengths and weaknesses. 
Primary One (P1) Registration
First things first. Primary one registration is the process of registering your child for mainstream schools. You will have additional consideration in the following scenarios: 
If Your Child is a Singaporean But Lives Overseas – if that's the case, then you can: 
Register your child at your preferred school

Register your child in phase 2C or 2C supplementary

Register your child through email
If Your Child Requires Special Education Needs – You can't control this, but you can find a solution. Therefore, if your child needs special education requirements, then you can: 
Register him or her for P1 in a mainstream school

Apply for a special school
If Your Child Is Assessed and Proven to be Unsuitable or Unready for P1 – If your child is medically assessed and proven to be unready or unsuitable for P1, apply for a deferment. 
If Your Child is an International Student – International students are children who are either not permanent residents of Singapore or are not Singapore citizens. International students can check out the P1 registration process for international students. 
Primary School Subjects and Syllabuses
At the primary school level, your child will be introduced to subject-based learning, where they'll learn different subjects such as: 
Languages 

Music 

Art 

Mathematics  

Mother Tongue Language

Social studies

Physical education

Character and citizenship education
In primary 5 and 6, your child will learn Sciences, Mathematics, English language at the standard or foundation level depending on his or her primary four examination results. Also, your child may be offered Mother Tongue Language, depending on his or her MTL results.
Secondary Education
Students will be admitted in secondary schools according to their primary school leaving examination qualifications. 
Secondary education in Singapore is compulsory, and students will have to sit an exam at the end (GCE "O" Levels). From there, those who pass can choose to proceed to pre-university. 
Pre-university is meant to prepare students who wish to join a university. 
Alternatively, your child can continue with post-secondary education at a polytechnic or a technical training institute to gain more vocational skills. 
Post Secondary Education Options
Junior Colleges (JCs) and Centralized Institute (CI)
JCs and CI are for students who have the necessary GCE "O" Level qualifications. Additionally, JCs recognize students' unique talents, so it will be an advantage if your child is talented in a specific skill. 
Finally, JCs go for two years and CI for three years. After completing either of those, your child will sit GCE "A" Level exam. 
Polytechnics
Polytechnics are for students who wish to pursue practice-oriented and applied training. The training period takes three years, and graduates who do well in their examinations can pursue tertiary education at the university. 
Institute of Technical Education
If your child has the GCE "O" or "N" Level qualification, he or she can join an ITE for 1 to 2 years of vocational training. Students with good grades can begin their diplomas at the polytechnics. Additionally, qualified students can subsequently join the university. 
Vocational Education
Vocational education is an option for students who wish to continue with post-secondary education.
While the institute of technical training offers vocational training, the government also plays a vital role by investing $1.6 billion to recruit more competent teachers. 
Subject areas for a vocational training program in Singapore include: 
Agriculture and veterinary medicine

Applied and pure sciences

Architecture and construction

Business and management

Education and training

Engineering

Social studies and media

Travel and hospitality

Personal care and fitness
Tertiary Education
There are two options – your child will either proceed to a polytechnic or a university after completing secondary education. 
To proceed to a polytechnic, your child must pass the GCE "O" Levels. On the other hand, your child will only join the university if he or she passes the "A" levels at the pre-university stage. 
There are five polytechnics and three self-governed universities in Singapore. The National University of Singapore is the oldest, founded in the year 1960. 
Special Needs Schools
It's no doubt that the Singapore education system is among the best in the world. Sadly, most children may still find themselves locked out from the regular primary school program. 
That's why some schools focus on children who could have minor learning disabilities. These schools have teachers who are capable of handling such students. 
That said, there are more than twenty schools with customized curriculum for children with mental and physical disabilities. 
How to Know if Your Child Requires Special Educational Needs
According to the Professional Practice Guidelines, your child requires special needs education if the following three conditions are present: 
Your child has been diagnosed with a disability

Your child shows greater difficulty in learning as compared to his or her colleagues

Your child requires an extra push beyond what is provided at school 
How to Select the Right School for Your Child
The choice of school for your SEN child will depend on whether your child suffers mild SEN or moderate-to-severe SEN. A child is considered to have mild SEN when: 
He or she has the cognitive ability to learn the mainstream curriculum

His or her education needs can be met with the minimal mainstream curriculum

He or she can adapt and cope with mainstream learning
On the other hand, your child will be considered to have moderate-to-severe SEN if: 
Your child requires a specialized curriculum, for example, braille instructions

Your child needs extensive or specially-designed instructions

Your child requires specific expertise

e to support his or her behavior
Feel free to check out SPED schools for more information; the support and provisions they provide to students.
Okay, enough of an overview of the education system in Singapore. Let's now look at the Singapore education facts, shall we?
Singapore Education Facts – Frequently Asked Questions
Singapore has one of the best education systems in the world, and a ton of people can't stop asking the following questions: 
How Good is the Education System in Singapore?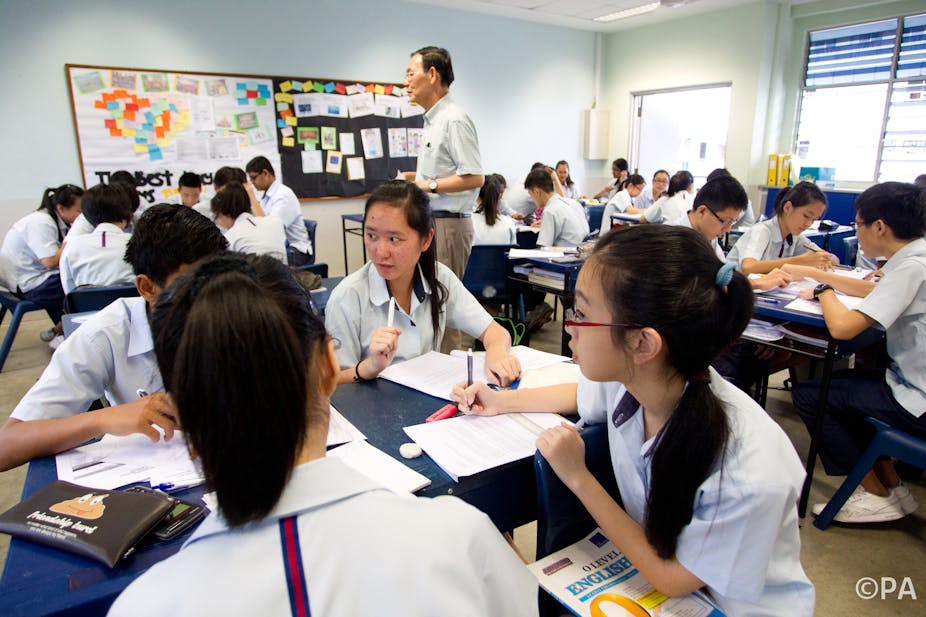 The Organization for Economic Cooperation and Development (OECD), in 2015, rated the Singapore education system as the best in the world. 
Andreas Schleicher, the director of OECD, stated that Singapore students are the best in Maths and sciences. 
Additionally, 15-year old Singaporean English students are ten months ahead of Western countries students. 
Finally, the Singapore education system is successful because it focuses on teaching students specific problem-solving skills in real life. 
Is Education Free in Singapore? 
Education in Singapore is free and compulsory for primary school. Parents will be required to pay up to SGD 13 per month to help cater for miscellaneous costs. Therefore, have that in your monthly budget to help support your child's primary education. 
How Many Years is Education in Singapore? 
For various reasons, you may be curious about how many years your child could take to complete the Singaporean education system. 
Well, the Singapore education system consists of 6 years of primary education, four years of secondary education, and between 1 to 3 years of post-secondary school. 
Is Singapore Education Hard?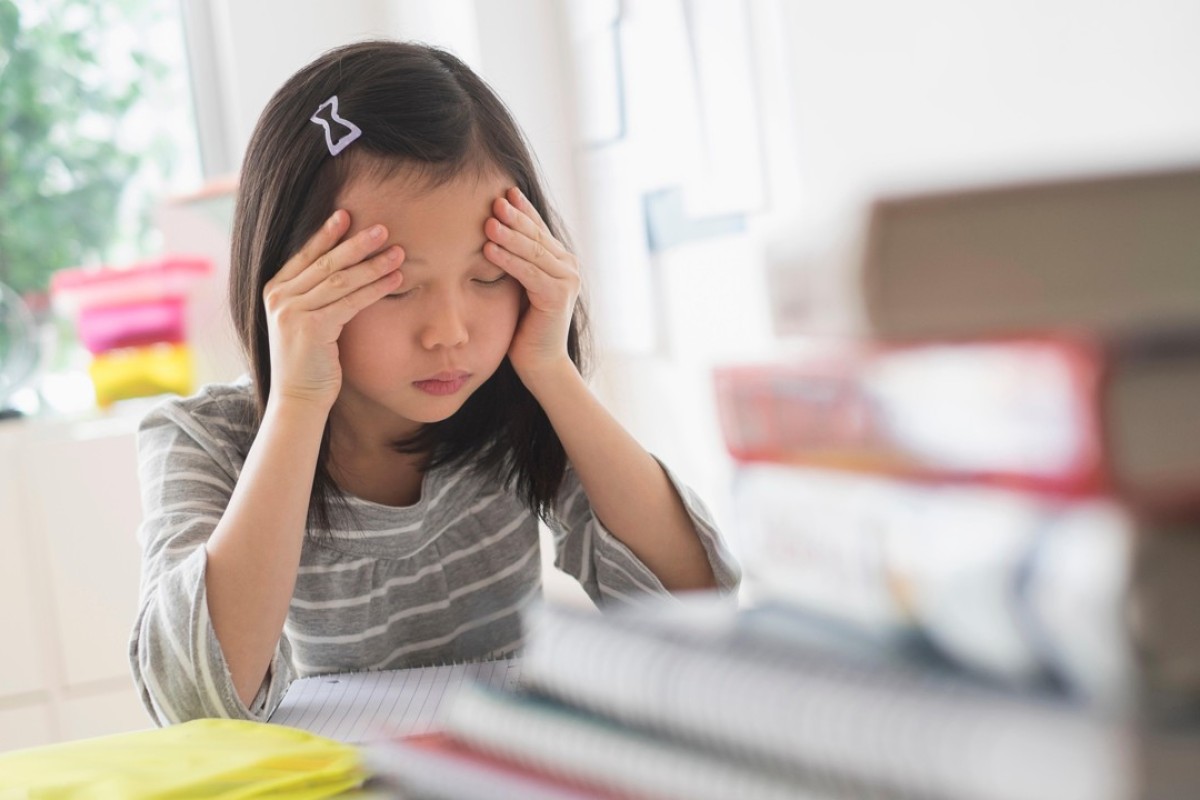 People who have been through the system reveal that the education system in Singapore is stressful because it involves a lot of memorization and rote learning. 
However, authorities in Singapore are trying to review and improve the education system as much as they can. The Singaporean authorities have responded positively by adopting the Teach Less, Learn More strategy. 
While there are different opinions that the education system in Singapore is stressful, it is best to focus on the quality of education your child will get. 
And that marks the end of our Frequently Asked Questions about Singaporean education. 
But can foreigners study in Singapore? Let's find out.
Singapore School System for Foreigners
This is one of the biggest nightmares for non-citizens or non-permanent parents in Singapore. 
Well, international students can register for primary education in Singapore when they turn six. 
And that's not all. You must also wait to apply during phase 3 after the citizens and permanent residents have put in their application during phase 1 and phase 2. 
That sounds like a bad deal for international students. Well, we published a post about how you can ensure you get registered as an international student fast. Check it out. 
Finally, international students who wish to secure a place in secondary school must sit the Admissions Exercise for International Students (AEIS) or Supplementary Admissions Exercise for International Students (S-AEIS). 
It is important to note that admission isn't guaranteed. Upon successfully passing the exam, other considerations like the available vacancies will determine whether you secure a place or not.  
Singapore Education System Compared to Other Countries
It's a fact – Singapore has one of the best education systems in the world. According to a global study, Singapore ranks fifth behind Finland, Japan, South Korea, and Hong Kong. 
But how do their systems of education compare to other systems across the world? Let's find answers to some of the frequently asked questions about how the Singaporean system corresponds to the rest of the world. 
Where Does Singapore Rank in Education?
The Singaporean education system is among the best in the world. The country has continuously been ranking on the first spot for the OECD's Program for International Assessment (PISA), which includes three main categories – reading, Science and Maths. 
Why Does Singapore Have the Best Education System? 
The hard work by the Singapore authorities and other stakeholders on their education system has seen the success, but what's unique about the Singapore education system?
Well, Singapore uses an instructional regime, in which classroom instructions are highly scripted to equip students with practical skills. Also, examinations are crucial, and classes are centered around them. 
Okay, we've centered so much on the wows. Can we now look at the flaws? 
Singapore Education System Flaws
While the Singapore education system attracts a ton of international students, it also has some flaws, and that's what we are going to discuss in this section. Let's dive in. 
1. Employers in Singapore are So Much Obsessed With Grades
While the government may say words like, "every school is a good school" and "grades shouldn't be the focus," employers in Singapore are still obsessed with grades. 
For example, when you apply for a civil service job in Singapore, you'll be required to present your "O" and "A" level results, plus your score in every subject. 
As if that's not enough, you'll be asked to come with photocopies of the same during your first interview. 
Realistically, hiring companies shouldn't focus on either the "O" or "A" level results. Things have changed, and any company hiring today should look into more crucial factors such as internships and overseas exposures. 
2. Parentocracy and Bell Curve System
Parentocracy is when a parent's wishes or opportunities determines a child's education. 
If you want your child to fit well into the education system in Singapore, then you will have to do more. 
This is because of various reasons, like the Bell Curve System. The Bell Curve System is when students are afraid to help one another because they feel doing so may limit their chances of staying top. 
So parents will have to register their children for tuition programs to help them keep up with the pace. If you can't afford these additional expenses, then your child will be left behind. 
3. Obsession With Top Schools
Kiasu parents, to be specific, are so much obsessed with top schools. They feel that their children must go to one of the best schools around Singapore, but that shouldn't be the case. 
However, parents should understand that pushing their children to some of these schools may affect their studying styles. 
Instead, parents should take their kids to schools that will take care of their children's talents and studying styles. 
There are a ton of Singapore education system flaws. We have an entire post on the same. You can check it out if you want to know more about these flaws. 
For now, let's move to our last section – changes to the education system in Singapore, shall we? 
Changes to Singapore Education System
Singapore has had some significant changes to its education system, which aims at shifting the focus from the obsession of grades to students' strengths. Below are the notable changes to the Singapore education system: 
1. An End to P1 and P2 Exams
Beginning 2019, examinations, as well as weighted assessments for the primary one and primary two, will come to an end. 
That will include pulling out the end year examinations at P2. Similarly, P3, P5, S1, and S3 will also pull out over the next three years (2019-2021). 
2. Direct School Admission (DSA) to Extend to All Secondary Schools
Secondary schools started admitting students under the DSA scheme in 2018 by considering specific strengths like Science, language, Mathematics, arts, or sports. 
That means that academics will no longer be a priority during the selection processes. That said, schools will now use different assessment tools – from interviews to auditions and subject tests. 
3. Change in Result Slips
I remembered it like yesterday when I had to change my class position from my report card so that my parents could reward me. 
Not anymore in Singapore because your result slip will no longer have the following (from 2019): 
Class position

Position in standard

Progress report

Percentile scores for every subject

Total marks 
4. Change on Edusave Awards
Initially, top scorers in both primary and secondary schools secured bursaries ranging from SGD 275 to SGD 480. 
From 2019, such awards will go to only those students who show good learning attitudes, and this will only apply to P1 – P3 students. 
5. Introduction of Healthy Lifestyles In Schools
Food, exercise, and sleep have received focus in all the schools in Singapore. As of 2017, all primary and secondary schools, junior colleges as well as Millennial institutes have incorporated "Healthy Meals in School Programme." 
These are the remarkable changes that have taken effect in the Singaporean education system. You can check out other changes here. 
In Conclusion
In the beginning, your biggest worry was to understand the education system in Singapore. 
And this post walked you through everything you need to know about the Singaporean education system. 
With all these insights, you should now make the right decision in choosing the best system of education for your child. 
And just before you go, let us know your biggest challenge with the Singapore education system, and we'll be happy to help with some insights. 
All the best!